INDIAN HEAD MASSAGE DIDCOT
This massage originates from an Indian alternative medicine system called Ayurveda, (translated as the 'science of life'), whereby it is believed that the mind and body are intricately connected and thus can influence one another.
Our Indian head massage is a perfect way for you to relieve tension and stress.  We concentrate on massaging points of pressure throughout the head, neck and shoulders. Our trained therapists will leave you feeling revitalized & refreshed after every visit!
Do you have headaches and jaw pain? Our head massage will provide you with relief from these medical conditions. It is also effective for strengthening your scalp and hair condition.
We start your relaxation by caring for your neck and shoulder areas, then we shift our attention to your face and scalp. Our technique offers a holistic approach to relaxation, assisting you in relaxing and unwinding from a stressful day.
Indian head massage Benefits
At our Indian head massage centre in Didcot, we offer special massage techniques to promote blood circulation, relieve stress and tension.
Here are other benefits you can enjoy:
Encourages hair growth by raising oxygen in the hair follicles.
Effective in preventing headaches and migraines by easing built-up tension in the head and neck area and alleviating stiffness in the muscles
It helps alleviate symptoms of anxiety and depression via relaxation
Promotes lymphatic drainage by the circulation of blood to the neck area
More restful sleep by lowering stress
Stimulate the flow of cerebral spinal fluid
Revitalises and regulates energy levels by tapping into the three higher chakras
It improves memory capabilities by easing stress and relaxing the mind
WHAT CONDITIONS OUR CAN INDIAN HEAD MASSAGE HELP WITH?
Indian Head Massage helps millions of people to cater to their physical and mental health needs. You should be aware that this massage treatment can assist in treating or alleviating several conditions.
This includes:
Migraines and tension headaches
Ear conditions, including tinnitus
Assists in alleviating hair thinning and hair loss
Muscle strain – neck and shoulder discomfort
Eye Strain
sleeplessness
Nasal congestion
Worry, anxiety, and depression
Labor pain
Muscle Pain
Premenstrual Syndrome (PMS)
Post-operative pain
Our Indian head massage technique
A full Indian head massage session typically has a time span of 30-45 minutes. Before the therapy begins, your therapist may ask you about your lifestyle or specific discomfort, pains or illnesses you have. You may also be questioned regarding any medical treatments or drugs you are taking because the therapist has to be careful when using oils, pressures and other techniques.
During the therapy session, the client may keep their clothes on and relax on a massage chair or remove clothes from the top region of the body and lie on a massage couch. The massage typically starts with the shoulders as well as the upper back, then proceeds onto the limbs before finishing with the head, scalp and face.
The massage therapist makes use of a variety of movements, such as kneading, stroking, and compression throughout the shoulders, neck, and scalp region. As the treatment continues, the client's breathing quiets, the mind relaxes, and by when the session ends, they feel refreshed, a sense of tranquility and peace.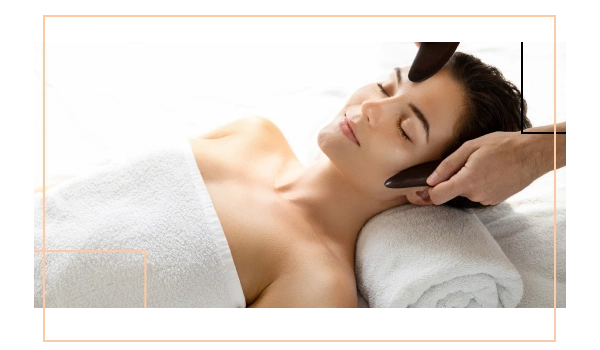 Indian head massage History
Indian head massage is an old form of therapy employed in India for more than two thousand years (since roughly 600 B.C.), typically by mothers on their daughters. It is an aspect of a form of medicine called Ayurveda, which seeks to encourage long life and balance the body's vitality. It was commonly used with aromatic herbs and spices that were beneficial for good health and skin.
In the past, the Indian head massage was prevalent at weddings and births. These days many babies are still getting the massage to maintain their health. The massage has also been used in hair salons and spas.
How much does Indian head massage Near Me costs?
Indian head massage for stress, migraine, eye strain, neck and shoulder pain, and more.
At our clinic it costs £45 for a 30-minute session.
BOOK YOUR APPOINTMENT WITH US
Select the service you are interested in and proceed to book your appointment with one of our therapist. After booking, you can always log in to manage your appointment.