BODY MASSAGE IN DIDCOT 
Looking for where to get "Massage Near Me". We are here for you!
Our massage therapy is used to help manage a health condition or enhance wellness. It involves manipulating the soft tissues of the body.
Massage has been practiced in most cultures, both Eastern and Western, throughout human history, and was one of the earliest tools that people used to try to relieve pain.
Here at our massage centre in Didcot, we offer advanced therapeutic facial massage technique designed to relax and rejuvenate our clients . Buccal face massage has grown in popularity in the last few years and taken New York to the next holistic level ever since it was discovered.
Many celebrities and the Duchess of Sussex, Meghan Markle herself, swear by the many benefits of this truly unique facial massage. Becky will also add exfoliation and a facial mask tailored to your skin type. This method relieves tension held in all areas of the face, particularly that of the jaw, using deep and intensive movements to stretch and release strained muscles. Movement of lymph fluids will de-puff your complexion to bring back your facial contours.
Becky incorporates an organic facial with the facial massage, giving you an hour of pure relaxation.
The results are instantaneous and provide a lifting and sculpting effect to redefine the face.
75 mins –  £95 
INDIAN HEAD MASSAGE NEAR YOU
Indian head massage is designed to relieve tension in the shoulders, neck, face, and head muscles and joints. It is also effective in alleviating sinusitis, sleeplessness, migraines, and exhaustion. The experience is very peaceful and soothing, leaving one with a sense of renewed vigor, focus, and vitality. Benefits include:
Helps relieve migraines
Encourages Hair Growth
Improves Lymphatic Drainage
lowers fatigue and insomnia
alleviates anxiety and depression issues
replenishes energy
Increase memory capacity
30 minutes – £45 
This 30 minute treatment is designed to assist in releasing any tightness or strain in your neck, back, or lower back area.
Book in with Becky and she will incorporate a cupping technique to help stretch the muscles and fascia, increase blood flow and help with pain relief (45 min treatment).
30 minutes – £45
Bamboo massage is similar to trigger point, deep tissue, and Swedish massage and is essential for your physical and mental health. People take these massages to relieve muscle tension, stress, and chronic pain and alleviate joint pain.
It is one of the most popular massage techniques in Didcot because it has a lot of physical and mental benefits. Bamboo is known to have unique healing properties, and in many cultures, it symbolizes vitality, energy and life. 
Our massage therapist will use a hollow, organically-treated bamboo cane of varying lengths and diameters on the body. 
The bamboo canes are light and straight. Your larger muscles, like thighs and back, will be massaged using gliding strokes with the longer sticks. The shorter sticks are used to massage specific areas, like on the feet. Our massage therapist holds the bamboo cane in their hands and uses the same rolling motions they would use with their hands to massage the muscle, but the pressure is much firmer and deeper. Hands are also used to add to the overall effect of the massage.
1 hour – £60
Swedish massage is among the most widely used types of massage therapy. It can assist in recovery after an injury, assist you in relaxation, and boost energy. It uses long strokes that knead the muscles, as well as rhythmic tapping strokes and movement of the joint surfaces.
This style of massage stimulates the muscles' top layer and works to reduce tension there.
It is often used simply for relaxation. It's been proven to help alleviate discomfort, stress, and muscle spasms.
1 hour – £55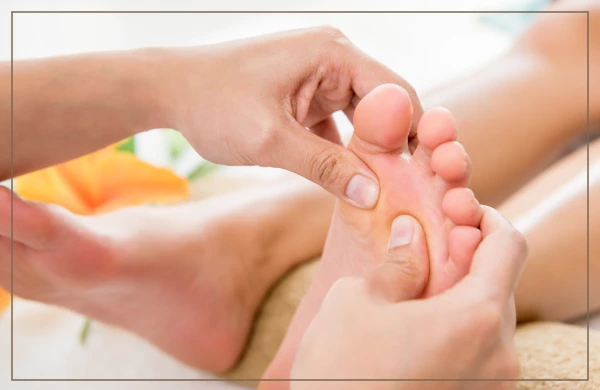 Reflexology is a non-invasive complementary health therapy that can be effective in promoting deep relaxation and well-being; reducing stress in people's lives can be key in optimising good health and building resilience. It is a touch therapy that is based on the theory that different points in the feet, lower leg, hands, face, or ears correspond with different areas of the body, and reflexologists work on these points and areas.
This will transmit a soothing and relaxing massage from the nerve endings of these areas of the body to the central nervous system, prompting the body to relieve stress and ease tension. This massage technique can enhance relaxation and improve the functioning of your internal organs, as well as stimulate blood flow (by improving oxygen circulation and nourishment to the cell and supporting the removal of waste.) It has an advantageous impact on the body's respiratory, immune, endocrine and neuropeptide systems. 
In fact, studies from different research organisation confirmed that reflexology is effective in pain alleviation and reducing anxiety.
You should try it out.
1 hour- £60
Why Body Massage in Didcot?
Our expert massage therapy will not only help alleviate stress but will also help you to enjoy the following therapeutic benefits:
Alleviates discomfort (low-back, sciatica, and fibromyalgia)
Minimizes anxiety
Relieves migraines and headaches
Relieves postoperative discomfort
Improves the performance of exercise
Reduces tension in the muscles.
Instead of Googling for "Massage near me", why not try quality massage service from Luminate Wellness?
BOOK YOUR APPOINTMENT WITH US
Select the service you are interested in and proceed to book your appointment with one of our therapist. After booking, you can always log in to manage your appointment.