spa day In Didcot and oxfordshire
Book a spa day with us if you are looking to get away from the stress of day to day life and have some time on your own or with your loved ones
About our Spa Packages in Didcot
Are you currently in Didcot?
Would you like to have the place to yourselves for a few hours so you can catch up with a loved one or some friends?
We can offer you the space for a morning/afternoon exclusively just for you and your friends.
We have two therapy rooms and can tailor any package for you. Just get in touch with your requirements and we can get planning!
Take all the stress out of planning a special event and let us arrange the finer details for you.
We have room for 5-6 people and in the summer you can also enjoy the garden in-between your treatments. Ideal for baby showers, hen do's and birthday surprises.
The Infrared Sauna is also available for free depending on how many guests are attending and treatments booked with us on the day.
Contact Becky for more info ~ luminatebarn@gmail.com
OUR SPA DAY PACKAGES
If you are in Didcot, you can choose from one of our already-prepared spa day packages or build your own unique experience from the services we offer.
Experience the restorative power of solitude and relaxation thanks to our high-quality services and tranquil relaxation area.
You and your friends are welcome to book the entire space for the morning or afternoon.
We have two therapy rooms and can customise any service to your needs. Please contact us with your needs so that we can begin planning.
Allow us to handle the finer details so you can relax and enjoy your special occasion or event.
There is space for 5 to 6 people, and during the summer, you are welcome to spend your leisure time in the garden. Perfect for birthday surprises, hen dos, and baby showers.
The infrared sauna is also free, but it depends on how many people are coming and what treatments they have booked with us on that day.
How long does a spa day last?
We will leave that down to you! You can come for the whole day if you wish to, we will lt you decide…
Do you offer any anti ageing treatments on your spa days?
Absolutley! You can litrally pick anything that we offer on our treatment menu, as long as we have the therapists in to treat you on that day.
Radiofrequency comes to the rescue, not only tightening skin, but also restoring contours to create toned, firm, youthful-looking skin.
Microneedling will stimulate the growth of collagen and elastin, which is the key to new, youthful-looking skin. Because of its ability to trigger the generation of new skin cells, dermatologists have found that a few sessions will noticeably reduce fine lines, crow's feet, and deep wrinkles on the forehead.
What are your most popular treatments?
Organic Facial
This treatment takes 60 to 90 minutes depending on what facial you choose.  It can include back massage, cleansing, exfoliation, steam, shoulder massage, mask and finishing with LED light therapy.
Infrared Sauna
This is an area where you unwind in dry heat that may reach up to 100C
It takes 30 minutes in an infrared sauna to reach the full health benefits it can provide. That is a quick session if you are receiving the health benefits you need. 
Health benefits of a infrared sauna 
🔥Has anti-aging effects and helps with 
🔥Reduces muscle soreness, pain, and inflammation 
🔥Helps with sleep and producing melatonin 
🔥Restores endorphins or happy hormones 
🔥Decreases stress hormones, such as cortisol and promote relaxation 
🔥Helps improve cardiovascular help by decreasing your blood pressure 
What better than your own private Infrared sauna suite at Luminate. Your sweat session will be 30-45 minutes with an additional 15 minutes to shower and freshen up. If you decide to bring a friend (+£20), please note that there is only 1 shower in our Sauna Suite.
Body Massage
We offer many types of massage at Luminate that last between 60-90 minutes. Massage is one of the best treatemnts to pick if you are feeling stressed and in need of some all over body pampering. Massage will help ease any aches and pains, improve blood flow and help you get a better nights sleep.
Why Our SPA Day Didcot
Our packages are a wonderful way to relax with your loved ones, enjoying the space all by yourselves. Great for intimate gatherings and small get togethers.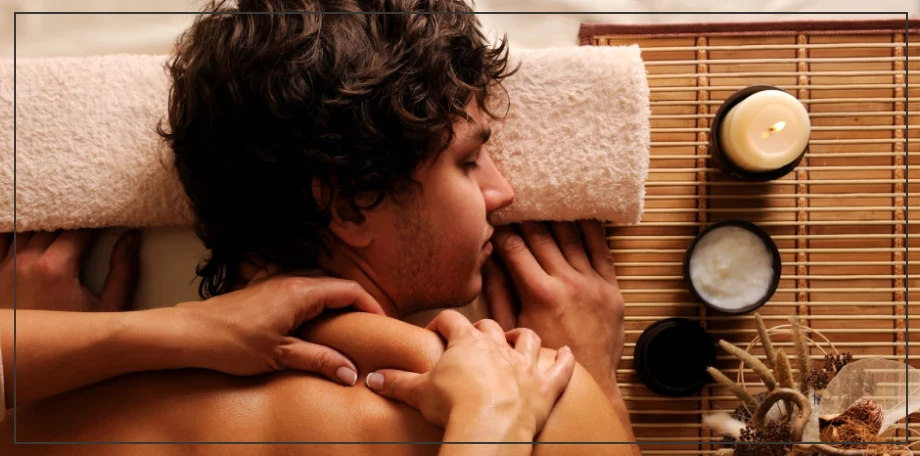 BOOK YOUR APPOINTMENT WITH US
This is a very popular package and we want to make sure we get it right for you. Please contact us through the online form first before booking to make sure the correct therapists will be in.